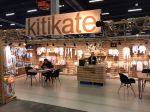 The GRAND PRIX winner for the TOP EXPO - FOR BABIES Trade fair 2017 - KITIKATE will be present at For Kids this year.
You will have a chance to see this unique but most important - ORGANIC clothes for babies and children.
,,Kitikate has a beautiful and thoughtful range of garments, designed with fun, colour and movement in mind.The design of our baby clothes combines fashion and quality as well as functionality at a reasonable price. Products it forms always have an emotional connection with our customers , has become a tradition in life, shaping the dimensions of health, quality and comfort."
Kitikate's vision is to be a sustainable and affordable children's brand.