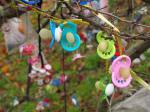 Dear mothers, are your toddlers "junkie" on the pacifier and do not give it up voluntarily even when they do not actually need it?
We agreed on a long-term cooperation with PACIFIER elf and at the spring fair would again grow ''Pacifier tree'' for children.
The tree you would find in the Entrance Hall 1. For sure, you would not miss it, the tree would be decorated with pacifiers and around the tree there would be pacifier spacer. Under the tree there would be ready a basket into which your child throws unnecessary pacifier. Thus he or she would be a godfather to the baby, who would this pacifier "inherit" :-).